Tableware is an indispensable product in modern people's daily home life. It is mainly made of ceramics and stainless steel. The high-quality stainless steel tableware products are not only non-toxic, but also easy to clean and care during use. They also have the texture that ceramic tableware does not have. However, stainless steel tableware needs good maintenance in daily life to show its characteristics. How to maintain stainless steel tableware?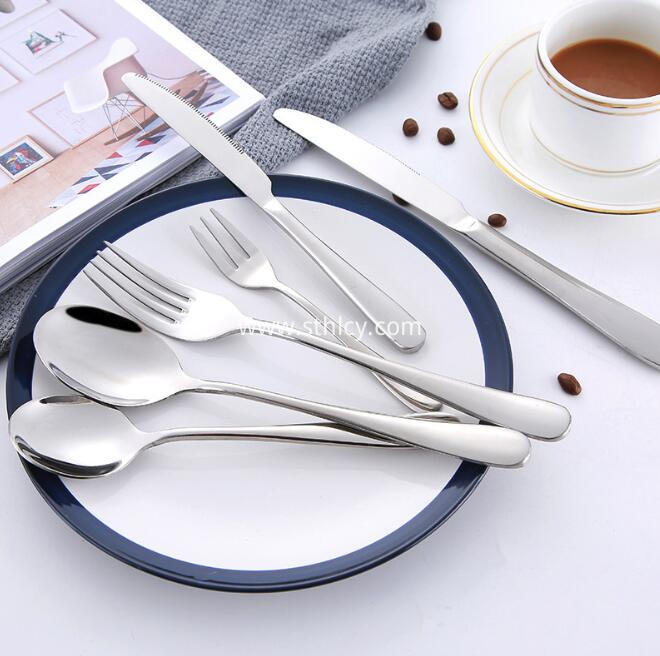 Stainless steel does not mean that it will not corrode and rust, but only that its corrosion resistance is relatively strong. Therefore, stainless steel Cutlery needs to be preserved and maintained during use. The maintenance techniques of stainless steel cutlery are as follows:
First of all, in terms of stainless steel cookers, because the thermal conductivity of stainless steel is relatively small, the heat dissipation at the bottom of the pan will be slower, so the temperature will be more concentrated. In order to save fuel and avoid food scorching, we should turn the fire down so that the bottom of the stainless steel The heating surface is even. Charred food is hard to avoid. When this happens, we can soak it in water first, and when the burnt part becomes soft, gently scrape it off with wood chips. After washing, dry it with a soft cloth and put it in a dry place. After using the stainless steel Cookware for a period of time, there will be a mist on the surface. If the surface is smoked black by the smoke, we can use a soft cloth to wipe a little detergent to make the surface of the Stainless Steel Cookware recover.
Of course, stainless steel cutlery in the home, such as bowls, chopsticks, etc., should be cleaned immediately after use, and stainless steel cutlery can not be placed directly into the microwave oven, and it is not easy to clean with acidic or alkaline detergent. Be careful not to bump with hard objects during the process and be careful to scratch.
Shantou HLCY Co., Ltd.
Business Type:Manufacturer , Trade Company
Product Range:Cookware Sets , Steamers , Soup & Stock Pots
Products/Service:Stainless Steel Cookware Sets , Stainless Steel Pan , Stainless Steel Pot , Stainless Steel Bowl , Stainless Steel Spoon , Stainless Steel Plate
Certificate:
Company Address:125352252, Shantou, Guangdong, China


Previous: The difference between 304 and 430